Do I Need a Large Camera?
Time stops for no man or beast, and in the world of cameras, things are no different. The improvements made in image quality in recent years have been quite remarkable. Larger sensors recording higher resolutions have been squeezed into ever-smaller camera bodies, leaving camera operators like me, who's main focus is producing high quality corporate films, in a quandary, can smaller be better?
We don't have to go back many years when for a camera operator to be taken seriously in the industry they would have two be carrying on their shoulder a camera weighing over 15 kg and costing upwards of £40,000 and that's without lenses. So the main barrier to entry into the market back then was the price.  Fast-forward to today and we have tiny cameras capable of producing stunning images fraction of that price. Even the quality of the average smartphone in 2020 has improved enough to be taken seriously in the world of media production. But there is a problem, one not derived from the technological capabilities of such cameras but one more of client perception. In today's fast-paced corporate video environment we have to balance the ever-increasing expectations of our clients against diminishing timelines and tighter budget restraints, and we call this progress!
Now I really enjoy the technical side of the business and find myself often experimenting with the latest gear the camera industry has to offer. I have never been locked into one camera manufacturer preferring instead to use what I feel is best suited for the job in hand.  I have always owned my own equipment for day-to-day shoot requirements and hire in additional equipment for specific jobs.
Until 2018, I was toeing the line, using the same mid-size cameras as my industry peers, designed to sit comfortably on the shoulder for long periods. I had experimented many times before using smaller cameras for personal projects and private jobs but always mindful that if I turned up on set for one of my main clients I would somehow be perceived differently. In-fact I actually witnessed such an event when filming for a third party. The client who was himself was quite tech-savvy, (and the job in hand, one of reasonable budget), turned to my fellow camera op who was using a DSLR camera and said " Ooh is that a 'camera' model mk x? Yes it is, came the reply. " Ooh they are really good aren't they, I bought my 14-year-old son one of those for Xmas, he's getting quite good with it you know"!  I felt for the camera op, I really did, and whilst initially, it was amusing it was equally frustrating as we camera folk know that the image quality captured by the latest mirrorless cameras can easily hold its own against their larger brethren, and often can exceed them. This is a fact often refuted by owners (but generally by those who have invested in large expensive cameras and firmly believe that money and size are proportional to the quality of the images)!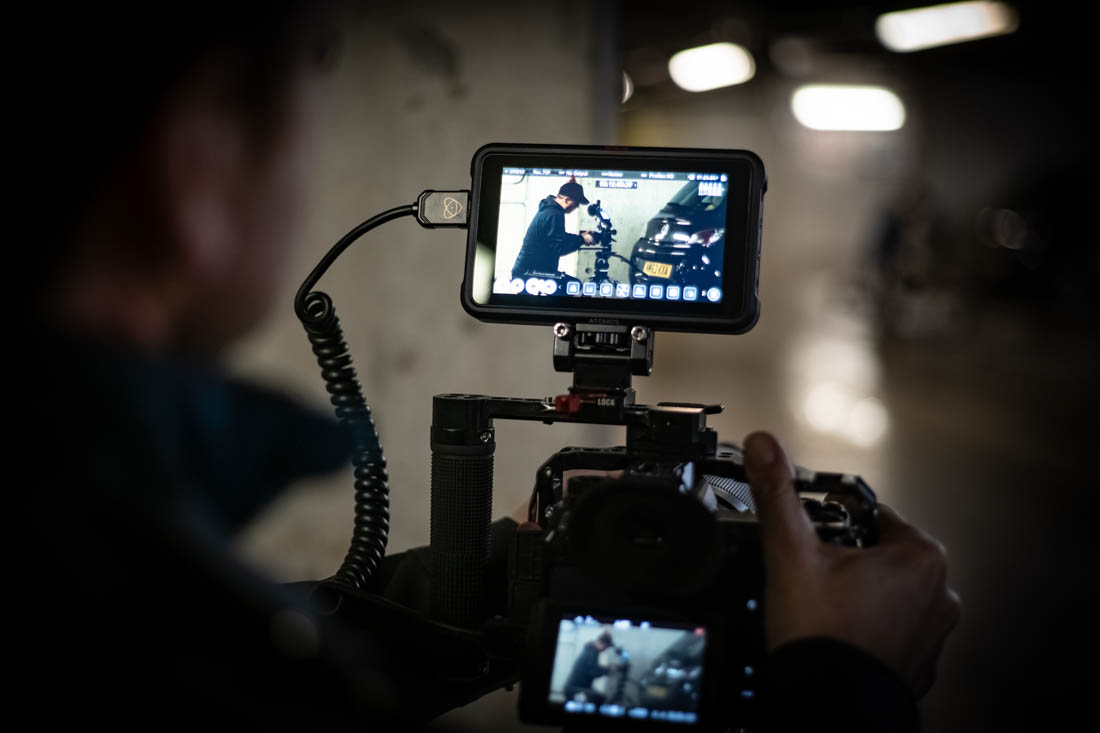 Smaller cameras can produce great quality images, but do our clients think this way?
Now, I'm not saying that the video quality from a small mirrorless camera is comparable to that of a cinema camera costing 50x its price, but the differences may not be as big as you think. There has been notable 'blind tests' where films shot on such cameras were shown to industry experts on cinema screens who, upon judging only the finished film could not tell which film came from which camera. Add to this that much of today's media content is destined for on-line viewing on small hand-held tablets and phones and the gap narrows further. Clients should be hiring you for your skills behind camera, not for the camera you own.
So we often find ourselves back to the same question: Do you need a large camera to be taken seriously?  Well, clients that I am speaking to of late are showing clear signs of change. I canvased many of my clients, those who I could trust their opinions would be straight and to the point. Most (though not all), confirmed that to them, only the finished job was of importance, they didn't care or didn't want to care what cameras were used to film it. Some did admit to finding it 'comforting" to see a camera op arrive and produce a large shiny 'proper' camera from his equally large camera bag, but many did not and when questioned some remarked that "well it's a big camera so he must know what he's doing" It was interesting that those that held those views in my small canvassing study were in an age bracket similar to me, or above. Millennials and below took a different stance….and they are our future clients!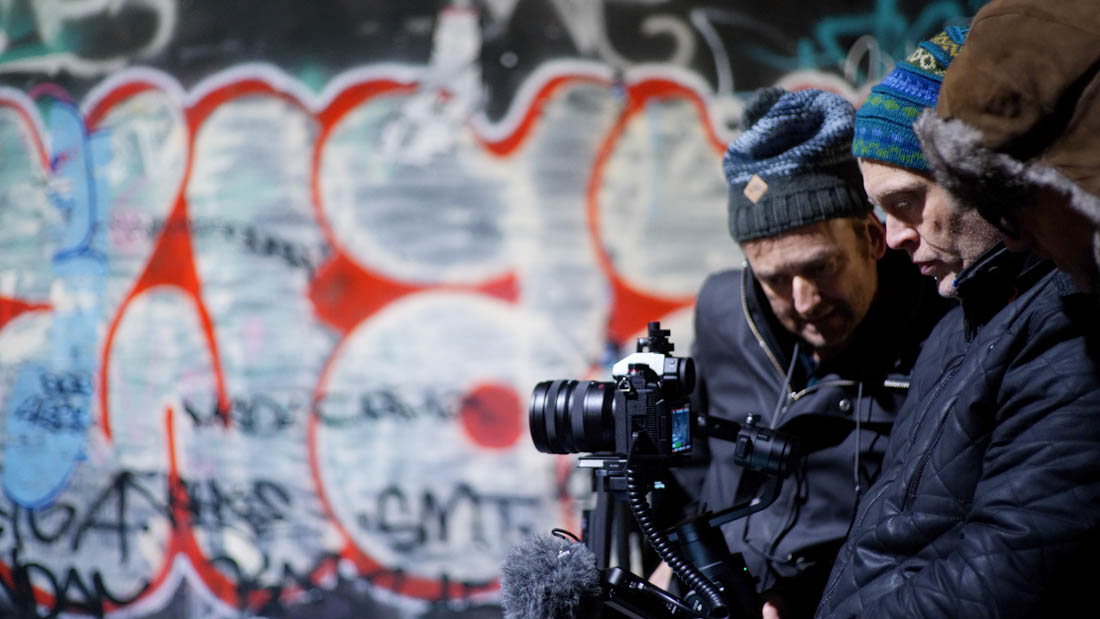 Smaller form cameras can indeed produce high quality film content for commercial video production.
With this in mind in 2019, I decided to play safe. I would keep one of my 'larger' cameras as a plan B and invest in what I believed at the time to be the best 'small' camera system available, namely the Panasonic S1, a mirrorless camera recent to the market, which ticked a lot of boxes for how I like to shoot and had the added benefit of being an excellent stills camera. I had an opportunity to 'try before you buy' and was very impressed with the overall performance. I had a great opportunity to compare 'like for like' with my "large camera" and in so many ways, I preferred the footage from the new camera. A bigger sensor meant improved aesthetics, better low light performance, and the colours were way more to my liking. I was confident that the 'little' camera could keep my clients happy, and I had my large camera in reserve if at any point I felt that wasn't the case.
Well, 12 months on and I am happy to say that "going small" was a good decision. After 6 months, I was finding that my large camera was in-fact a depreciating paperweight. I didn't lose any work by not using the large camera, so I sold it whilst the value was still acceptable. My client base has grown and I am finding it easy to justify the benefits of filming with these new cameras. So pleased with the quality, I have since gone on to purchase a second S Series camera, in the form of the Panasonic S1H, a camera heavy on its video features and offering 6K resolution and RAW recording.
Listed below are the main pros and cons of downsizing your gear as I see them. It won't suit everyone, that is for sure, but for many, it just may do that.
Pros:
Initial and on-going costs – cameras rapidly improving year on year and it is feasible to upgrade or purchase multiple camera bodies on a regular basis if necessary.
Image Quality – Some of the latest mirrorless cameras (Panasonic S1H for example) have broadcast standard features and are approved for use on high-end productions for shows such as Netflix.
Less to pack – It is feasible to pack all of the kit needed to film in shoulder bags and rucksacks. Moving from location to location is much easier. I do not miss carting around countless 'Peli' cases!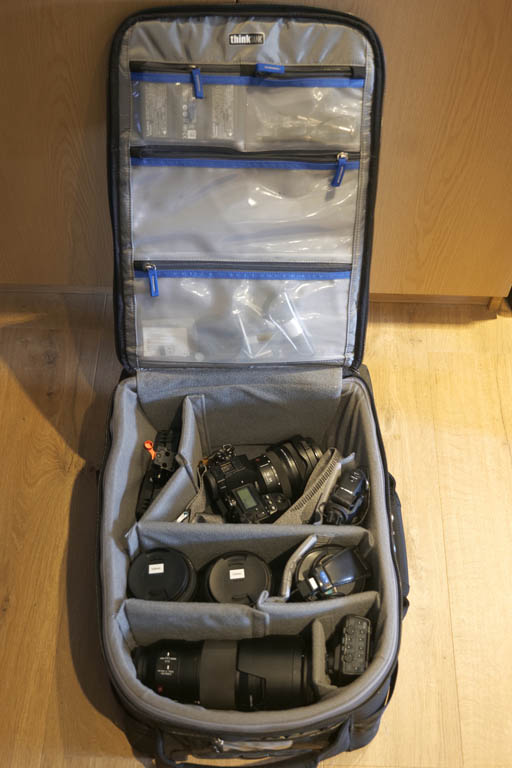 Camera, lenses, audio gear etc. All packed into a travel friendly case.
Smaller – Small mirrorless cameras have encouraged a highly mobile approach to my filming. Easy to switch from tripods, sliders, jib arms, and car mounts, to hand-held and even drones in very short times. I find I am using far more shots and angles now, that were not possible with larger camera bodies (due to fatigue or space).
Travel friendly – I am traveling overseas now with far less weight in gear, which has made traveling for work, far less stressful and far less costly for my clients. The lower the cost of travel, the more budget for the filming. I can fit multiple mirrorless camera bodies and lenses in a flight friendly package, so that improves my options for multi-camera shooting and means I have redundancy back-up should I need it.
Less intimidating – I have noticed a real change in people's approach when filming with small cameras vs. large 'proper' cameras, especially in public places. It is easy to strip down a mirrorless camera to blend in with the surroundings. This in-turn avoids un-wanted attention that large cameras sometimes bring. People I am filming seem less intimidated when being filmed on smaller cameras. I can also get away with shooting in locations without the trappings that come with a big camera on your shoulder which screams " look at me, I'm a professional camera op filming for TV"!
I have gotten permission to film in places with a polite request that would not have been granted if I was lugging around a huge tripod and matching camera.
It can look like a big camera! – If you feel the need to 'impress' your client with a camera that at least looks like a serious piece of kit, you can. It is easy to build up the accessories and attach monitors, matt boxes, follow focus wheels, etc Your camera will look far more impressive to a client if that is your wish.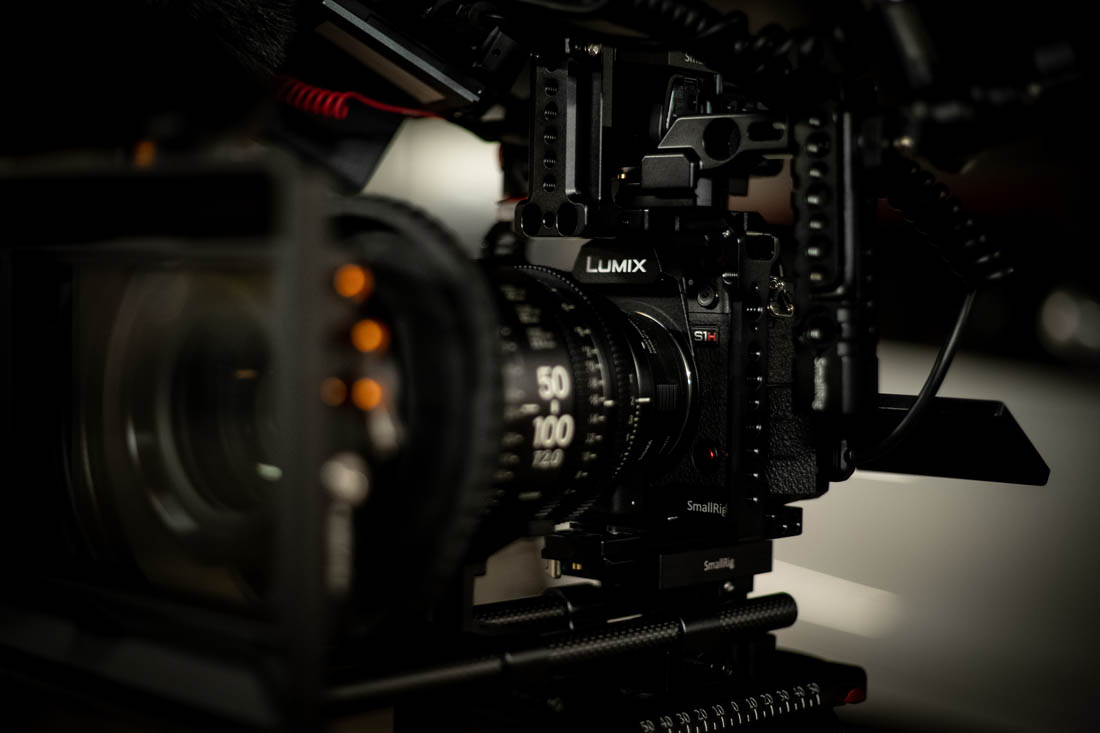 Panasonic S1H, rigged up with accessories for a commercial shoot.
The future – History has showed camera manufacturers innovate to make things better and smaller and I cannot see this changing anytime soon. Right now we are seeing new models released of cameras crossing over with 'large' sized camera specs being fitted into smaller form factor bodies.
Cons:
Broadcast TV – Many agencies book a camera operator because he/she has a specific camera and these are nearly always larger shoulder mountable cameras. Many of these cameras have connectivity ports built-in that suit large Multicam operations and studio sets.
(I offset this argument slightly as my clients are commercial and not generally TV-based, so I can easily hire-in any camera to suit any broadcast jobs)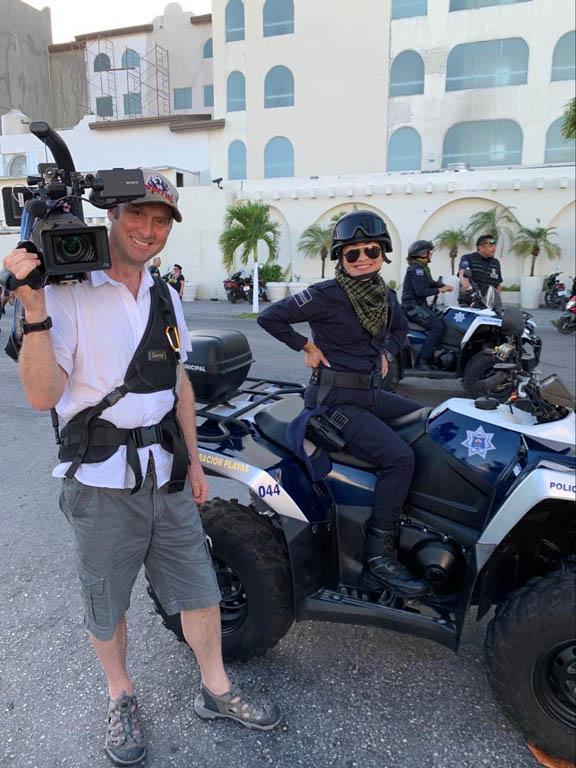 Friend and colleague Jon Chappell, donning a typical broadcast camera.
Old School Perception – There are still plenty out there that are reluctant to accept that you need a large camera to produce quality films.
High-end Agency work – If this is your bag, then there is little point in trying to muscle in on work that is clearly suited to big-budget, big studios, and large crews. This work is the domain of cameras made by the likes of Arri etc.
Some jobs suit large cameras! – If your work demands stand up interviews for hours on end, then a large well-balanced camera on your shoulder is the best solution. Ergonomically, it just makes sense and that is what they were designed for.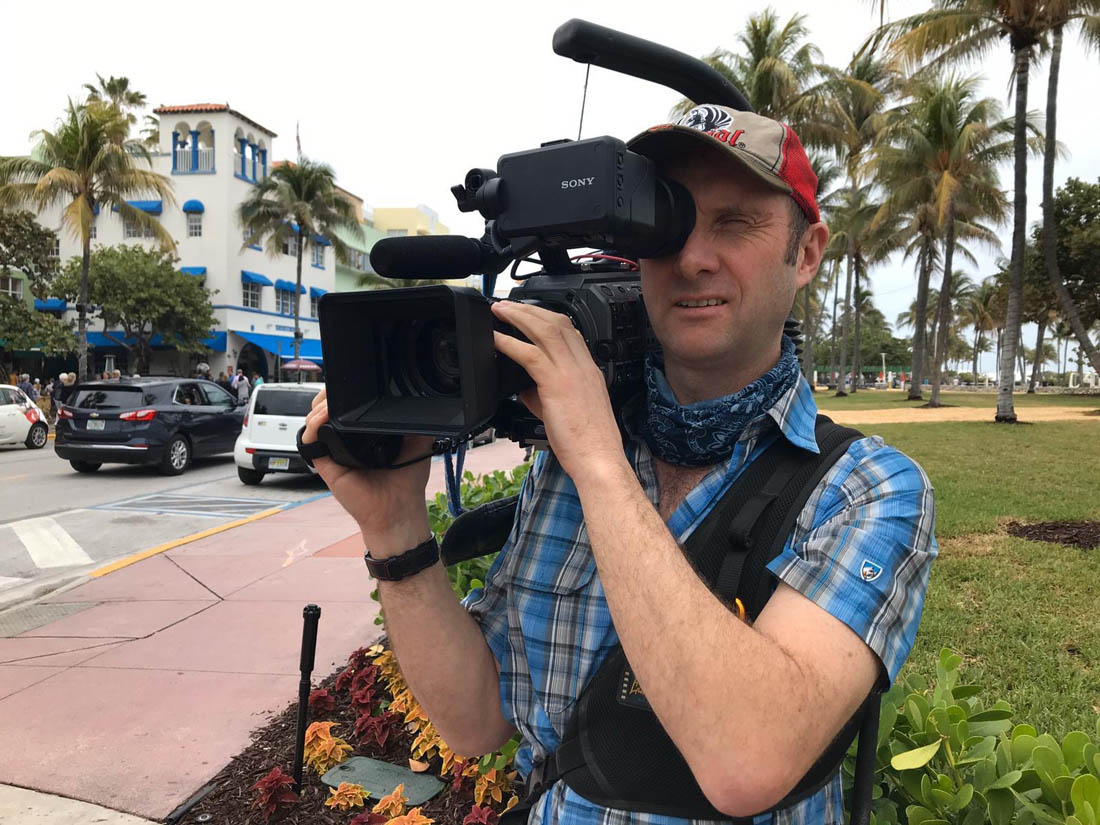 If you are shooting for hours on end stood up, then shoulder mounted cameras are the way to go.
Summary:
I am glad I made the switch, and have no regrets in doing so. I am happy and so are my clients, so that is the most important. I feel a bit 'liberated' and the smaller, lighter, cameras are by in large, fun to shoot with.
I still get to film with larger cameras for some clients and that is fine, it's all a case of using the right camera for the right job.
My next blog will follow on from this one and is a real-life account of using the Panasonic S1 and S1H cameras on a commercial shoot the expectation would be to use a 'large proper' camera!
© Stuart Morgan